A specially developed rescue system for emergency services operating at sea.
There are two cases: one with three bags and hoses, and one with three bottles that are already "charged". Both suitcases weigh under 20kg and are extremely easy to use for emergency vessels arriving at a casualty. Not only will they be able to save lives, but also the environment. They can keep the casualty afloat so that it can be towed to shore. Then the boat will not be left littering our sea. We have also developed a fire handle so that if an accident catches fire, you will be able to easily mount this on and use the fully charged co2 bottles to extinguish the fire. The system is reusable. The bags, hoses and cases can be used time and time again. It is both cost-effective, environmentally friendly and sustainable!
1 set = 3 bottles and 3 bags (2 suitcases) / with all hoses and connectors
1650 kg minimum lifting power (at 0-5 degrees)
At 20 to 25 degrees in the water, up to 1800kg lifting power
The case meets the requirements of ISO standard IP67
Weighs 19k per case, complete with equipment
External measurements: H = 45CM B = 50CM D = 28CM (the suitcases are identical)

All the products in the sets are reusable while being sustainable and recyclable.
Made to save lives
Every year people die at sea, not only from drowning, but also from hypothermia when the boat capsizes. Many could have been saved, and that is exactly why Antisink was developed. Antisink is a fixed safety system with a large lifting force which is triggered automatically if water gets on board. This ensures that the boat stays afloat until help arrives.
It is not only at sea that this product works. Should the accident occur when the boat is docked, Antisink secures valuables such as the engine and electronic components by keeping them above water for up to several weeks.
Order here
Antisink Havari-kit
Description
Dette er et system som er utviklet for nødetater som opererer til sjøs. Det er to kofferter: én med tre bagger og slanger, og en med tre flasker som er ferdig «ladet». Begge koffertene veier under 20kg og er ekstremt enkelt å bruke for nødfartøy som kommer til en havarist. Ikke bare vil de kunne berge liv, men også miljø. De kan holde havarist flytende slik at den kan bli tauet til land. Da blir ikke båten liggende å forsøple havet vårt. Vi har også utviklet et brannhåndtak slik at dersom havarist brenner vil du enkelt kunne montere dette på og bruke de ferdig ladede co2-flaskene til å slukke brannen.
Systemet er gjenbrukbart. Posene, slangene og koffertene kan brukes gang på gang. Det er både kostnadseffektivt, miljøsparende og bærekraftig!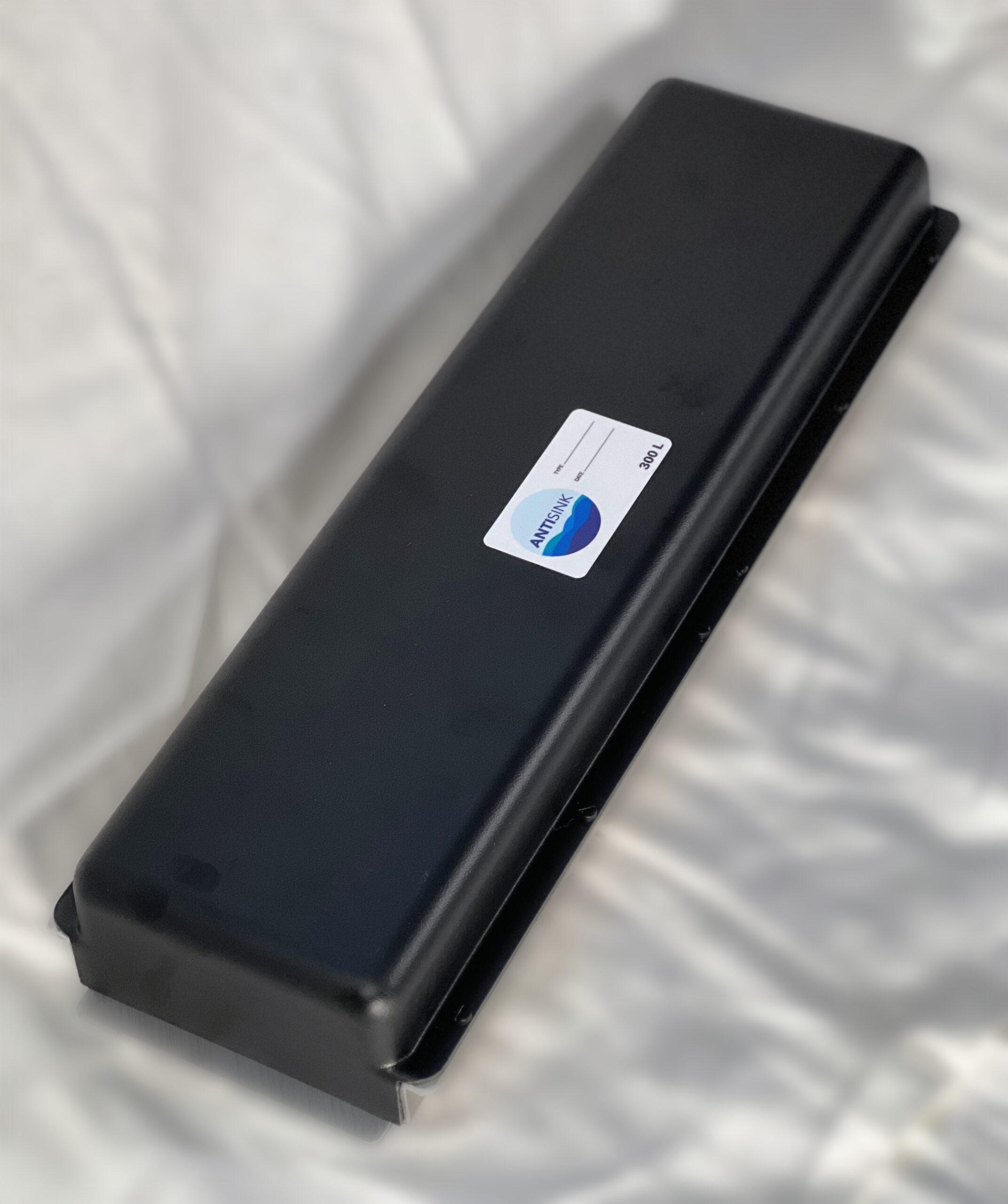 Designed and produced in Norway
Antisink is Norwegian-made, and has all the correct approvals and quality in all respects. See the product table to know which package you need for your boat's weight class.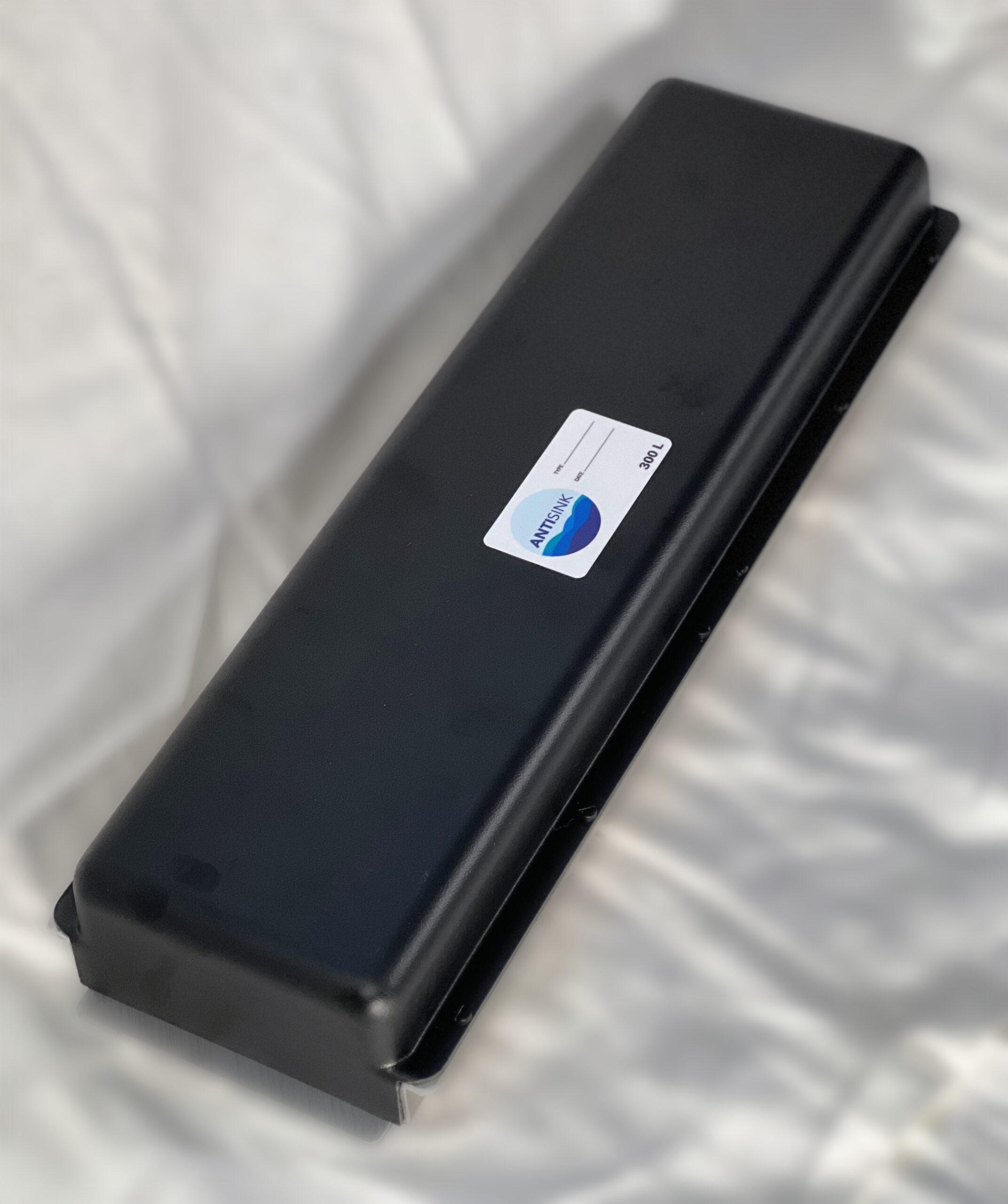 Certified and solid
All Antisink products are CE and PI certified, and follow national and international standards for product safety and safety at sea. They are also compact, impact-resistant, waterproof and flame-retardant and can also be triggered manually.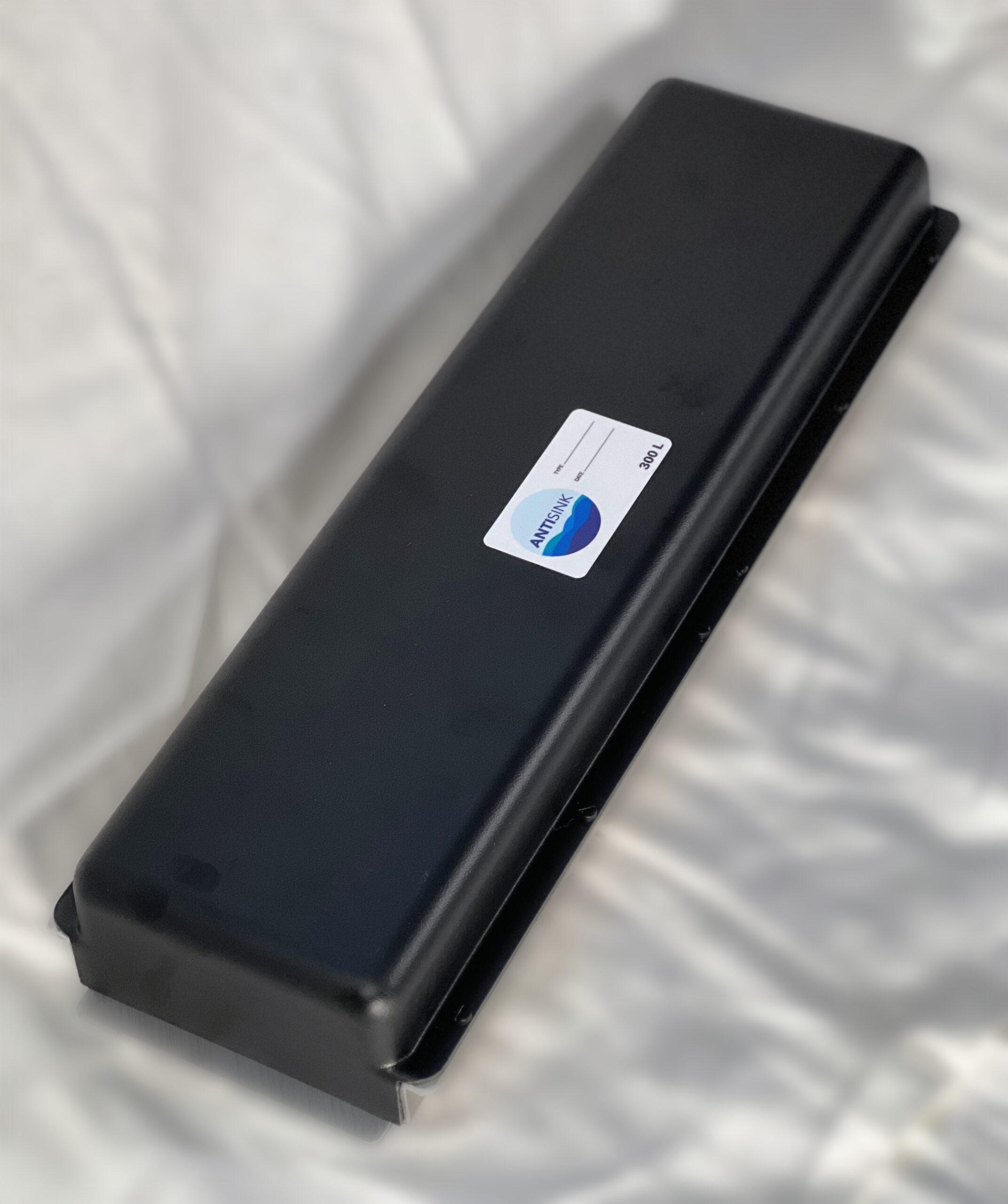 Focused on the environment
All of the components are reusable or recyclable. If Antisink has been triggered, it only needs to be repackaged before it can be used again. The only thing that needs to be replaced is the CO2 trigger while the CO2 bottle is refillable. Antisink can be easily installed and repackaged yourself using the installation instructions, but if in doubt it is recommended to contact your boat dealer for assistance.
Technical specifications

Product no. / model
For boat size (tot. weight)
Buoyancy
Dimensions
All in One 2500N
< 600kg
250kg
440x180x125mm (LxBxH)
All in One 5000N
< 1200kg
500kg
440x180x125mm (LxBxH)
All in One 7500N
< 1900kg
750kg
440x180x125mm (LxBxH)
All in One 10000N
< 2500kg
1000kg
440x180x125mm (LxBxH)
All in One 12500N
< 3100kg
1250kg
440x180x125mm (LxBxH)